LOGGING IN WITH YOUR USERNAME AND PASSWORD
To login to ANY of our Web Based Products, or Product Download Sites, with your username and password, follow these steps.
---

- ACCESSING THE PRODUCT LOGIN AREA
CLICK THE WEB SITE ADDRESS LINK YOU WERE GIVEN, TO REACH THE LOGIN BOX, AS SHOWN IN OUR EXAMPLE BELOW.

NOTE: if you are using AOL, you will have to copy the link from the email, and paste it into your browser address bar.
---

- USING THE LOGIN BOX
After clicking the link, a new browser window will open, and so will a login box, that looks like this: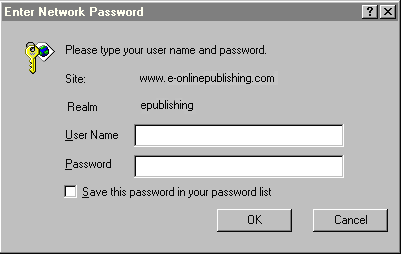 MAKE SURE YOUR CAPS LOCK BUTTON IS NOT TURNED ON BEFORE YOU LOGIN TO THE PRODUCT!
This is what your caps lock looks like, on your keyboard.

It is on the left hand side of your keyboard!
If it's turned on, EVERYTHING YOU TYPE WILL BE IN CAPITAL LETTERS. You can't login correctly when your CAPS LOCK is turned on.
---

- ENTERING YOUR USERNAME
YOU HAVE TO ENTER YOUR USERNAME FIRST: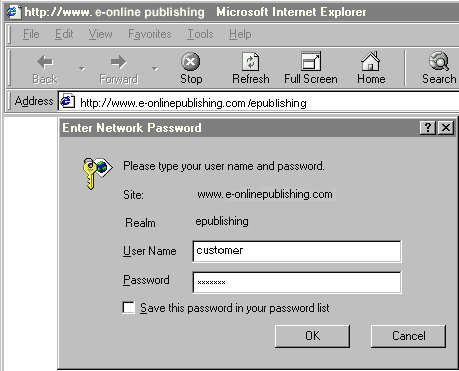 Your username will be the one that will be given to you by us.
Do NOT use any CAPITAL LETTERS!
---

- ENTERING YOUR PASSWORD
TYPE YOUR PASSWORD INTO THE BOTTOM PART OF THE LOGIN BOX.
You won't be able to see what you're typing when you enter the password, so make sure you type it correctly, and watch what keys you are using!
When you're entering it, it will look like this on your screen: xxxxxxxx
MAKE SURE YOU TYPE THE PASSWORD IN EXACTLY AS IT WAS GIVEN TO YOU!
If your password looks like this: Wb2uHXKp7
Then you have to enter it just like that, with CAPITAL LETTERS, and lowercase letters!
If your password looks like this: 68855443
Then make sure you are not reversing any of the numbers.
IF YOU'VE LOGGED IN BEFORE, BUT CAN'T GAIN ACCESS ANY LONGER:
If you have logged in successfully in the past, but are not able to gain access now, make sure that there are NO errors in your pre-existing username and password that appears in the login box when you access that page.
If you get repeated login problems, clear the existing login information, and re-type it manually, making sure not to use any CAPITAL LETTERS.
---

- SAVING YOUR LOGIN INFORMATION
If you look at the image below, you will see a small box on the bottom left hand side. (circled in red)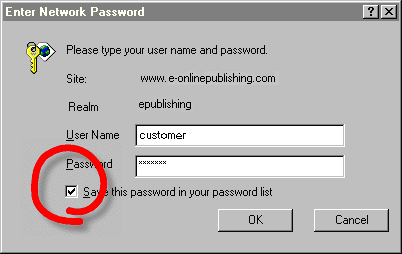 IF YOU CHECK OFF THAT BOX, YOU WON'T HAVE TO ENTER YOUR USERNAME, AND PASSWORD NEXT TIME YOU WANT TO LOGIN!
IT WILL BE PERMANENTLY SAVED FOR YOU!
---

- THE FINAL STEP!
When you have entered your username and password, and have checked off the "save password" box, all you have to do is click on the "OK" button: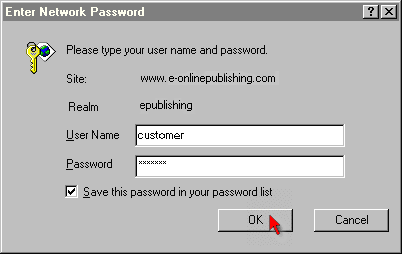 That's it!
If your login attempt fails, follow this checklist:
1) Double check that your CAPS LOCK is not turned on.
2) Double check to make sure you have entered your username correctly.
3) Double check to make sure your have entered the password correctly, which MAY OR MAY NOT be CaSE SeNsItiVe
---
If your login problems persist, or you are in need of additional assistance, submit a customer support ticket here:
http://handwritinguniversity.com/customersupport/
© e-onlinepublishing.com, Inc. All rights reserved.